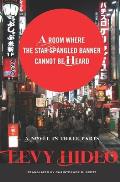 Set against the political and social upheavals of the 1960s, A Room Where the Star-Spangled Banner Cannot Be Heard tells the story of Ben Isaac, a blond-haired, blue-eyed American youth living with his father at the American consulate in Yokohama. Chafing against his father's strict authority and the trappings of an America culture that has grown increasingly remote, Ben flees home to live with Ando, his Japanese friend. Refusing to speak English with Ben, Ando shows the young American the way to Shinjuku, the epicenter of Japan's countercultural movement and the closest Ben has ever felt to home.
japanese title:
Seijoki no kikoenai heya
notes:
Japanese title: Seijoki no kikoenai heya. Contents: A room where "The Star-Spangled Banner" cannot be heard, The end of November, One of the guys.
subjects:
Americans, Japan
Nineteen sixties
Self-realization
genre:
Fiction
ISBN:
9780231527972
OCLC number:
754714777
publisher:
Columbia University Press, 2010, 2011
publication place:
New York
japanese publication date:
1992
english publication date:
2010
document type:
Book
description:
xii, 115 p.