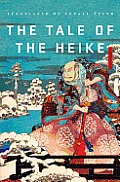 With a reflection on the fleeting nature of power and glory begins The Tale of the Heike, an epic from twelfth-century Japan. Comparable in stature to The Tale of Genji, The Tale of the Heike narrates with wit, energy, and compassion the stories of such unforgettable characters as the ruthless warlord Kiyomori, who dies still burning with such rage that water poured on him boils; Hotoke, the beautiful young dancer who renounces wealth and fame to follow her conscience; Shigemori, the tyrant's righteous son, who struggles against all odds to uphold fairness and justice; and Yoshitsune, the daring commander who defeats the enemy in battle after battle, only to be condemned by his jealous, powerful brother. The Tale of the Heike is a foundation stone of Japanese culture and a major masterpiece of world literature. Lavishly illustrated and accompanied by maps, character guides, and genealogies, this book is a volume to treasure.
japanese title:
Heike monogatari
notes:
Japanese title: Heike monogatari.
subjects:
Japan, History, Gempei Wars
Taira family
genre:
Fiction
ISBN:
9780670025138
OCLC number:
774147820
publisher:
Penguin Books, 2012, 2013
publication place:
New York, London
english publication date:
2012
document type:
Book
description:
xlvii, 734 p. : ill., maps ; 25 cm.