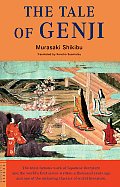 Written centuries before the time of Shakespeare and Chaucer, The Tale of Genji marks the birth of the novel and after more than a millennium, this seminal work about the life and loves of Prince Genji, master poet, dancer, musician and painter, continues to enchant readers throughout the world.
japanese title:
Genji monogatari
notes:
Japanese title: Genji monogatari. The first Tuttle edition of this work was published as Genji monogatari, in 1974.
subjects:
Intellectual life
Princes
Social life and customs, to 1600
genre:
Fiction
ISBN:
9780804838238
OCLC number:
71239206
publisher:
Tuttle, 1974, 2000, 2003, 2006, 2011
publication place:
Rutland, VT, Boston
english publication date:
1882
document type:
Book
description:
223 p. ; 21 cm.