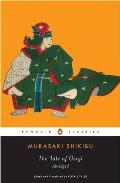 A portrait of Genji, the Shining Prince, son of an emperor. It features on his tempestuous nature, family circumstances, love affairs, alliances, and shifting political fortunes
japanese title:
Genji monogatari
notes:
Japanese title: Genji monogatari. Abridged.
subjects:
Intellectual life
Princes
Social life and customs, to 1600
genre:
Fiction
ISBN:
9780143039495
OCLC number:
60321735
publisher:
Penguin Books
publication place:
New York
english publication date:
2006
document type:
Book
description:
xxiv, 319, [6] p. : ill., 1 map ; 20 cm.