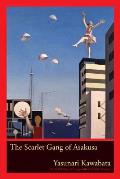 A new translation of the only work not currently available in English by a Nobel-Prize winning author and the best known Japanese writer outside of Japan.
japanese title:
Asakusa kurenaidan
notes:
Japanese title: Asakusa kurenaidan. Translated with preface and notes by Alisa Freedman. Foreword and afterword by Donald Richie. Illustrated by Ota Saburo.
subjects:
Tokyo
genre:
Fiction
ISBN:
9780520241817
9780520241824
OCLC number:
55208364
publisher:
University of California Press
publication place:
Berkeley, CA
japanese publication date:
1930
english publication date:
2005
document type:
Book
description:
xlviii, 231 p. : ill., map ; 22 cm.