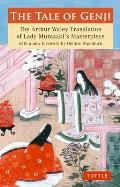 Written in the eleventh century, this exquisite portrait of courtly life in medieval Japan is widely celebrated as the world's first novel. Genji, the Shining Prince, is the son of an emperor. He is a passionate character whose tempestuous nature, family circumstances, love affairs, alliances, and shifting political fortunes form the core of this magnificent epic.
japanese title:
Genji monogatari
notes:
Japanese title: Genji monogatari.
subjects:
Intellectual life
Princes
Social life and customs, to 1600
genre:
Fiction
ISBN:
9784805310816
OCLC number:
435629091
publisher:
Houghton Mifflin, 1926, 1927, 1928, 1932, 1933; Literary Guild, 1935; Doubleday, 1955; Modern Library, 1960; Dover, 2000; Tuttle, 2010
publication place:
New York, Boston; New York; New York; New York; New York; Rutland, VT
english publication date:
1921-1933
document type:
Book
description:
xxvii, 1155 p. ; 21 cm.