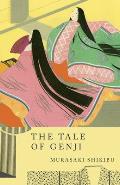 In the eleventh century Murasaki Shikibu, a lady in the Heian court of Japan, wrote the world's first novel. But The Tale of Genji is no mere artifact. It is, rather, a lively and astonishingly nuanced portrait of a refined society where every dalliance is an act of political consequence, a play of characters whose inner lives are as rich and changeable as those imagined by Proust. Chief of these is "the shining Genji," the son of the emperor and a man whose passionate impulses create great turmoil in his world and very nearly destroy him.
japanese title:
Genji monogatari
notes:
Japanese title: Genji monogatari.
subjects:
Intellectual life
Princes
Social life and customs, to 1600
genre:
Fiction
ISBN:
9780394483283
OCLC number:
2541047
publisher:
Knopf, 1976, 1978, 1982, 1986, 1989, 1992, 1997, 1998; Tuttle, 1978; Franklin Library, 1983; Vintage, 1985, 1990
publication place:
New York; Rutland, VT; Franklin Center, PA; New York
english publication date:
1976
document type:
Book
description:
2 v. (xix, 1090 p.) : ill. ; 25 cm.