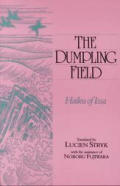 Kobayashi Issa (1763-1827), long considered among Japan's four greatest haiku poets (along with Basho, Buson, and Shiki) is probably the best loved. This collection of more than 360 haiku, arranged seasonally and many rendered into English for the first time, attempts to reveal the full range of the poet's extraordinary life as if it were concentrated within a year. Issa's haiku are traditionally structured, of seventeen syllables in the original, tonally unified and highly suggestive, yet they differ from those of fellow haikuists in a few important respects. Given his character, they had to. The poet never tries to hide his feelings, and again and again we find him grieving over the lot of the unfortunate – of any and all species.
subjects:
Haiku
genre:
Poetry
ISBN:
9780804009522
9780804009539
OCLC number:
23690066
publisher:
Ohio University Press, Swallow Press
publication place:
Athens, OH
english publication date:
1991
document type:
Book
description:
xxiii, 115, [2] p. ; 23 cm.