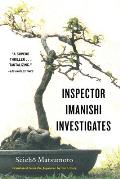 The corpse of an unknown provincial is discovered under the rails of a train in a Tokyo station, and Detective Imanishi is assigned to the case.
japanese title:
Suna no utsuwa
notes:
Japanese title: Suna no utsuwa.
subjects:
Detective and mystery stories
Police, Fiction
Tokyo
genre:
Fiction
ISBN:
9780939149254
OCLC number:
19742595
publisher:
Soho Press, Inc., 1989, 2003, 2011
publication place:
New York
japanese publication date:
1961
english publication date:
1989
document type:
Book
description:
313 p. ; 25 cm.