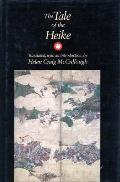 The Tale of the Heike is one of the masterworks of Japanese literature, ranking with The Tale of Genji in quality and prestige. Familiar in Japan for generations, first through oral narration and later through the printed page, this fourteenth-century reworking of traditional materials tells the story of the decline and final military defeat of the mighty house of Taira, reporting battlefield exploits in vivid detail, chronicling the fates of high-born ladies and other helpless victims of the times with delicate lyricism, and introducing humorous passages to leaven the comberness of the theme articulated in its famous opening lines: 'The sound of the Gion Shoja bells color of the sala flowers reveals the truth that the prosperous must decline. The proud do not endure, thay are like a dream on a spring night; the mighty fall at last, they are as dust before the wind.' The translation is not only far more readable than earlier ones, it is also much more faithful to the content and style of the original, especially in preserving the evidence of oral narration. Intended for the general audience as well as the specialist, this edition is lightly annotated, but includes three appendixes that give background information, a chronology, and an evaluation of the Heike as literature. There is also a glossary of persons, places, and terms. Illustrations consist of a color frontispiece, about fifteen prints from fourteenth- and fifteenth-century manuscripts, and two maps.
japanese title:
Heike monogatari
notes:
Japanese title: Heike monogatari.
subjects:
Japan, History, Gempei Wars
Taira family
genre:
Fiction
ISBN:
9780804714181
9780804718035
OCLC number:
16472263
publisher:
Stanford University Press, 1988, 1990, 2005
publication place:
Stanford
english publication date:
1988
document type:
Book
description:
489 p., [1] p. of plates : ill. (some col.) ; 24 cm.