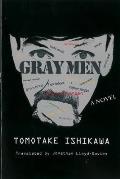 Ryotaro Sakuma is your everyday service industry employee. He just happens to work for a jewelry store, where luxury defines status. Sadly Ryo does not fit into this world, so his own boss and his fellow co-workers consistently pick on him to the point where Ryo often comtemplates suicide. Upon making a decision to finally end it all, he hears a voice from a man in an ash-colored suit. This man in grey would call out to him and eventually lead him to what would hopefully be a better place. However, he may have been deceived. Instead, this GRAY would ask Ryo for his help in a major heist. A heist on the very shop Ryo used to work for. This was not some regular hold up either. They would execute a major break-in that would quickly redefine the lives of everyone involved. To do this would be to create a new first impression for life. Winner of the 2011 Golden Elephant Award for International Genre Fiction.
japanese title:
Gurei men
notes:
Japanese title: Gurei men.
subjects:
Mystery and detective stories
Occupy movement
Thriller
genre:
Fiction
ISBN:
9781935654506
OCLC number:
828744758
publisher:
Vertical
publication place:
New York
japanese publication date:
2012
english publication date:
2013
document type:
Book
description:
253 pages ; 21 cm.