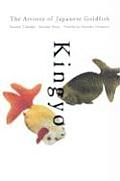 This book is a highly unique art book that reveals goldfish both as an element of Japanese culture and as an influential design motif over the last 500 years.
notes:
Includes the novella "A riot of goldfish" (Kingyo ryoran) by Kanoko Okamoto, translated by J. Keith Vincent.
subjects:
Goldfish
Social life and customs
genre:
Fiction
Nonfiction
ISBN:
9784770023032
OCLC number:
820921542
publisher:
Kodansha International
publication place:
Tokyo, New York
english publication date:
2004
document type:
Book
description:
390 p. : col. ill. ; 23 cm.