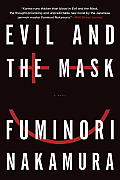 When Fuminori is eleven years old, his elderly, enigmatic father calls him into his study for a meeting. "I created you to be a cancer on the world," his father tells him. It is a tradition in their wealthy family: a patriarch, when reaching the end of his life, will beget one last child to dedicate to causing misery in a world that cannot be controlled or saved. From this point on, Fuminori will be specially educated to learn to create as much destruction and unhappiness in the world around him as a single person can. Between his education in hedonism and his family's resources, Fuminori's life is one without repercussions. Every door is open to him, for he need obey no laws and may live out any fantasy he might have, no matter how many people are hurt in the process. But as his education progresses, Fuminori begins to question his father's mandate, and starts to resist.
japanese title:
Aku to kamen no ru-ru
notes:
Japanese title: Aku to kamen no ruuru.
subjects:
Corruption
Family secrets
genre:
Fiction
ISBN:
9781616952129
OCLC number:
793220369
publisher:
Soho Press, Inc.
publication place:
New York
japanese publication date:
2010
english publication date:
2013
document type:
Book
description:
356 p.