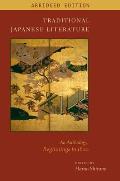 Traditional Japanese Literature features a rich array of works dating from the very beginnings of the Japanese written language through the noted age of aristocratic court life into the period of warrior culture. The anthology contains new translations of such canonical texts as The Tales of the Heike and generous selections from Man'yoshu, The Tale of Genji, The Pillow Book, and Kokinshu. It includes a stunning range of folk literature, war epics, poetry, and n? drama, and an impressive collection of dramatic, poetic, and fictional works from both elite and popular cultures. Also represented are religious and secular anecdotes, literary criticism, essays, and works written in Chinese by Japanese writers. Arranged by chronology and genre, the readings are carefully introduced and placed into a larger political, cultural, and literary context, and the extensive bibliographies offer further study. Intended as a companion to Columbia University Press's Early Modern Japanese Literature: An Anthology, 1600-1900, Traditional Japanese Literature significantly deepens our understanding of Japanese literature as well as of ancient, classical, and medieval Japanese culture.
notes:
Contents: Acknowledgments, Historical Periods, Major Texts and Authors, and Terms, Introduction, 1. The Ancient Period, 2. The Heian Period, 3. The Kamakura Period, 4. The Muromachi Period, English-Language Bibliography, Index. Abridged edition.
genre:
Fiction
ISBN:
9780231157308
9780231157315
9780231504539
OCLC number:
768417888
publisher:
Columbia University Press
publication place:
New York
english publication date:
2012
document type:
Book
description:
xx, 578 p. : ill., maps ; 25 cm.