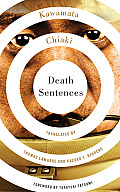 A young poet, Who May, pens one disturbing poem after another until he creates a poem that can kill, which sparks a "magic poem plague" when copies are mailed to all of his friends.
japanese title:
Genshi-gari
notes:
Japanese title: Genshi-gari. Contents: Prologue: The tracker, Another world, The gold of time, Undiscovered century, The shade of the shadow of light, Voyagers, The final chapter: Oblivion. Foreword by Takayuki Tatsumi.
subjects:
Time and space
genre:
Fiction
ISBN:
9780816654543
9780816654550
OCLC number:
759909871
publisher:
University of Minnesota Press
publication place:
Minneapolis
japanese publication date:
1984
english publication date:
2012
document type:
Book
description:
xxiii, 267 p. ; 21 cm.