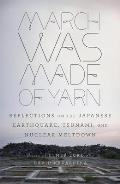 On March 11, 2011, a massive earthquake occurred off the northeastern coast of Japan, triggering a 50-foot tsunami that crushed everything in its path—highways, airports, villages, trains, and buses—leaving death and destruction behind, and causing a major radiation leak from five nuclear plants. Here eighteen writers give us their trenchant observations and emotional responses to such a tragedy, in what is a fascinating, enigmatic and poignant collection.
notes:
Contents: Foreword by John Burnham Schwartz, Introduction by David Karashima and Elmer Luke, The island of eternal life by Yoko Tawada, The charm by Kiyoshi Shigematsu, Nightcap by Yoko Ogawa, God bless you, 2011 by Hiromi Kawakami, March yarn by Mieko Kawakami, Lulu by Shinji Ishii, One year later by J. D. McClatchy, Grandma's bible by Natsuki Ikezawa, Pieces by Mitsuyo Kakuta, Sixteen years later, in the same place by Hideo Furukawa, The crows and the girl by Brother & Sister Nishioka, Box story by Tetsuya Akikawa, Dream from a fisherman's boat by Barry Yourgrau, Hiyoriyama by Kazumi Saeki, Ride on time by Kazushige Abe, Little eucalyptus leaves by Ryu Murakami, After the disaster, before the disaster by David Peace.
subjects:
21st century
Fukushima Nuclear Disaster
Tohoku Earthquake and Tsunami
genre:
Fiction
Nonfiction
ISBN:
9780307948861
OCLC number:
753625649
publisher:
Vintage Books
publication place:
New York
english publication date:
2012
document type:
Book
description:
xxi, 216 p. : ill. ; 21 cm.