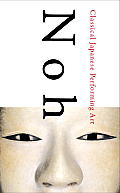 Noh plays invite us to witness and experience the salvation of souls. The Japanese-born performing art, Noh combines dance, drama, music and poetry influenced by Zen philosophy. With a 600-year history, it is the worlds oldest performing art and designated an Intangible Cultural Heritage by UNESCO. Beautifully photographed with thirty Noh stories selected from among the few hundred stories still performed throughout Japan today, this volume pursues the subtle, profound aesthetics and visionary qualities of Noh.
notes:
Photographs by Toshiro Morita, book and cover design by Kazuya Takaoka. Text in English and Japanese.
subjects:
Noh
Theater
genre:
Drama
ISBN:
9784894448469
OCLC number:
731299054
publisher:
PIE Books
publication place:
Tokyo
english publication date:
2010
document type:
Book
description:
286 p. : Ill ; 21 cm.