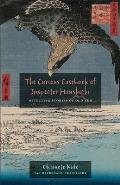 Told through the eyes of a street-smart detective, Okamoto Kido's best-known work inaugurated the historical detective genre in Japan, spawning stage, radio, movie, and television adaptations as well as countless imitations. This selection of fourteen stories, translated into English for the first time, provides a fascinating glimpse of life in feudal Edo (later Tokyo) and rare insight into the development of the fledgling Japanese crime novel.
notes:
Contents: The Ghost of Ofumi, The Stone Lantern, The Death of Kampei, The Room Over the Bathhouse, The Dancer's Curse, The Mystery of the Fire Bell, The Daimyo's Maidservant, The Haunted Sash Pond, Snow Melting in Spring, Hiroshige and the River Otter, The Mansion of Morning Glories, A Cacophony of Cats, Benten's Daughter, The Mountain Party.
genre:
Fiction
ISBN:
9780824830533
9780824831004
OCLC number:
71173834
publisher:
University of Hawaii Press
publication place:
Honolulu
english publication date:
2007
document type:
Book
description:
xxxvii, 335 p. : map ; 22 cm.