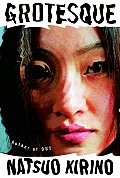 In the wake of the brutal murders of two Tokyo prostitutes, Yuriko and Kazue, Yuriko's older sister describes the three women's education at a prestigious girls' high school, where a strict societal conventions determine the courses of their lives.
japanese title:
Gurotesuku
notes:
Japanese title: Gurotesuku. A Borzoi book.
subjects:
Prostitution
Social life and customs
Tokyo, Japan, Fiction
genre:
Fiction
ISBN:
9781400044948
9781400096596
OCLC number:
70676629
publisher:
Alfred A. Knopf, 2006, 2007; Vintage, 2008
publication place:
New York; New York
japanese publication date:
2003
english publication date:
2006
document type:
Book
description:
467 p. ; 25 cm.