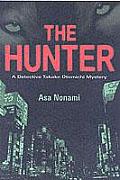 When Takako Otomichi chooses the career of detective, her family disapproves and her male colleagues refuse to take her seriously, especially hard-bitten old gumshoe Sergeant Tamotsu Takizawa, her reluctant partner on the hunt for a mysterious murderer whose grisly trademark is to rip out the throat of his victims.
japanese title:
Kogoeru kiba
notes:
Japanese title: Kogoeru kiba.
subjects:
Detective and mystery stories
Women detectives
genre:
Fiction
ISBN:
9784770030252
OCLC number:
70660065
publisher:
Kodansha International
publication place:
Tokyo, New York
japanese publication date:
1996
english publication date:
2006
document type:
Book
description:
269 p. ; 24 cm.