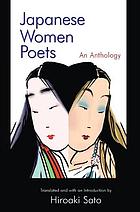 This anthology encompasses all the major Japanese women poets, over one hundred, arranged chronologically and all the major verse forms: choka, tanka, haikai (haiku), kanshi (verse written in Chinese), and free verse.
notes:
Contents: Ancient songs, Poems from the Man'yoshu, The age of Tanka, The age of Haikai and Kanshi, Interludes, The modern age.
subjects:
Women authors
genre:
Poetry
ISBN:
9780765617835
9780765617842
OCLC number:
997372216
70131159
publisher:
M.E. Sharpe; Routledge
publication place:
Armonk, NY; London
english publication date:
2007
document type:
Book
description:
xliv, 592 p. : ill. ; 6 x 9 in.
related:
An East Gate book.