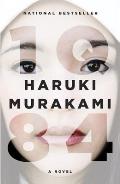 An ode to George Orwell's "1984" told in alternating male and female voices relates the stories of Aomame, an assassin for a secret organization who discovers that she has been transported to an alternate reality, and Tengo, a mathematics lecturer and novice writer.
notes:
In English, translated from the Japanese. Book 1. April-June, Book 2. July-September, Book 3. October-December
subjects:
Authors, Fiction
Man-woman relationships, Japan, Fiction
genre:
Fiction
ISBN:
9780307593313
9781846556692
OCLC number:
701017688
publisher:
Alfred A. Knopf, 2011; Vintage, 2011, 2012, 2013; Random House, 2012
publication place:
New York
japanese publication date:
2009
english publication date:
2011
document type:
Book
description:
925 p. ; 24 cm.