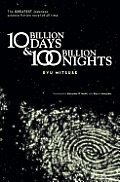 Ten billion days–that is how long it will take the philosopher Plato to determine the true systems of the world. One hundred billion nights–that is how far into the future he and Christ and Siddhartha Gautama will travel into the future to witness the end of the world and also its fiery birth. Named the greatest Japanese science fiction novel of all time, Ten Billion Days and One Hundred Billion Nights is an epic eons in the making. Originally published in 1973, the novel was revised by the author in later years and republished in 2001
japanese title:
Hyakuoku no hiru to sen'oku no yoru
notes:
Japanese title: Hyakuoku no hiru to sen'oku no yoru.
subjects:
Philosophy
Science fiction
Space opera
genre:
Fiction
ISBN:
9781421539041
OCLC number:
697261865
publisher:
Haikasoru
publication place:
San Francisco
japanese publication date:
1973
english publication date:
2011
document type:
Book
description:
284 p. ; 25 cm.