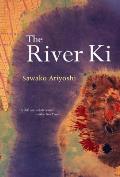 Powerful enough to sweep away people on its banks and placid enough to carry along with its flow a sumptuous wedding procession, the River Ki dominates the lives of the people who live in its fertile valley and imparts a vital strength to the three women–mother, daughter, and granddaughter–around whom this novel is built. It provides them with the courage to cope, in their different ways, with the unprecedented changes that occurred in Japan between the last years of the nineteenth century and the middle of the twentieth. Sawako Ariyoshi, one of Japan's most successful modern novelists, describes this social and cultural revolution largely though the eyes of Hana, a woman with the vision and integrity to understand the inevitability of the death of the traditional order in Japan.
japanese title:
Kinokawa
notes:
Japanese title: Kinokawa.
subjects:
River life
Women, Japan, Fiction
genre:
Fiction
ISBN:
9780870113857
OCLC number:
6644428
publisher:
Kodansha International, 1980, 1981, 2004
publication place:
New York
japanese publication date:
1959
english publication date:
1980
document type:
Book
description:
243 p. : ill. ; 22 cm.