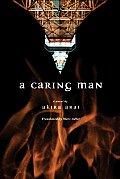 With no leads in stopping the "Final Event," a massacre of epic proportions promised by a terrorist group's leader, the Tokyo police are forced to contemplate the possibility of international terrorists targeting Japan.
japanese title:
Itsukushimu otoko
notes:
Japanese title: Itsukushimu otoko.
subjects:
Terrorism
Terrorists, Fiction
genre:
Fiction
ISBN:
9781935654179
OCLC number:
657595150
publisher:
Vertical
publication place:
New York
english publication date:
2011
document type:
Book
description:
350 p. ; 23 cm.