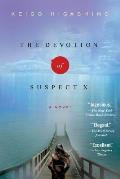 Yasuko Hanaoka thought she had escaped her abusive ex-husband Togashi. When he shows up one day, the situation quickly escalates and Togashi ends up dead. Yasuko's next-door-neighbor Ishigami offers his help, not only disposing of the body, but plotting the cover-up as well.
japanese title:
Yogisha X no kenshin
notes:
Japanese title: Yogisha X no kenshin.
subjects:
Abused women
Police, Japan, Tokyo, Fiction
genre:
Fiction
ISBN:
9780312375065
OCLC number:
651912889
publisher:
Minotaur Books, 2011, 2012
publication place:
New York
japanese publication date:
2005
english publication date:
2011
document type:
Book
description:
298 p. ; 25 cm.