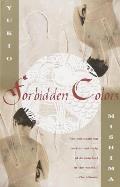 In Tokyo, a young man with homosexual tendencies is paid by a famous writer to humiliate three women who have made the writer unhappy.
japanese title:
Kinjiki
notes:
Japanese title: Kinjiki.
subjects:
Gay youth
genre:
Fiction
ISBN:
9780425026878
9780375705168
OCLC number:
629740
publisher:
Knopf, 1968; Berkley, 1968, 1974; Avon, 1970; Perigree Books, 1980; Vintage, 1999
publication place:
New York; New York; New York; New York; New York
japanese publication date:
Forbidden Colors (Part 1): 1951, Secret Pleasure (Part 2): 1953
english publication date:
1968
document type:
Book
description:
vi, 403 p. 22 cm.