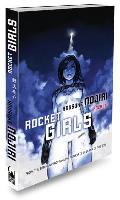 Yukari Morita is a high school girl on a quest to find her missing father. While searching for him on the Solomon Islands, she receives the offer of a lifetime, she'll get the help she needs to find her father, and all she need do in return is become the world's youngest, lightest astronaut. Yukari and her teen friends, all petite, are the perfect crew and cargo for the Solomon Space Association's launches, or will be once they complete their rigorous and sometimes dangerous training.
japanese title:
Roketto garu
notes:
Japanese title: Roketto garu. Contents: Yukari Morita: 37 kg, excellent health, So easy a monkey could do it, Girl of the jungle, The fear diet, Perfect by redesign, Midnight interview, Endless countdown, Meddling spirits, The blue planet awaits.
subjects:
Astronauts
Space flight
genre:
Fiction
ISBN:
9781421536422
OCLC number:
624546851
publisher:
Haikasoru
publication place:
San Francisco
japanese publication date:
1995
english publication date:
2010
document type:
Book
description:
214 p. ; 21 cm.