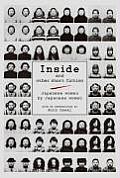 Inside and other short fiction showcases the very best of recent writing by Japanese women writers today-including prize-winning novelists and authors never before published in English-as they explore the issue of female identity in a rapidly changing society. Amy Yamada ("Fiesta"), widely published overseas and with many fans among Western readers, offers us a sophisticated psychological portrait of a sexually repressed woman. Tamaki Daido ("Milk"), winner of the Akutagawa Prize in 2002, and talented young newcomer Rio Shimamoto ("Inside"), paint two very different pictures of teenage life. The trials of a busy working mother are depicted by Shungiku Uchida ("My son's lips"), who shocked Japan in 1993 with the publication of her novel, Father fucker. Yuzuki Muroi ("Piss"), a prolific, popular and outspoken essayist, novelist and TV commentator, tells the sexually explicit and very moving story of a young Tokyo prostitute. Winner of the 1999 Akutagawa Prize, Chiya Fujino ("Her room"), delves into the relationship between two women, one divorced and one single, with a subtle and powerful tale. Well-known essayist, Junko Hasegawa ("The unfertilized egg"), makes a first foray into fiction with a hard-hitting portrait of the single thirty-something lifestyle. Nobuko Takagi ("The shadow of the orchid") is a highly respected member of the Japanese literary establishment, and winner of many prizes, including the Akutagawa Prize in 1984. Her short story is a sensitive depiction of a moment of crisis in the life of a fifty-year-old housewife.
notes:
Contents: Milk by Tamaki Daido, Inside by Rio Shimamoto, Piss by Yuzuki Muroi, My son's lips by Shungiku Uchida, Her room by Chiya Fujino, Fiesta by Amy Yamada, The unfertilized egg by Junko Hasegawa, The shadow of the orchid by Nobuko Takagi. Foreword by Ruth Ozeki.
subjects:
Short stories, Japanese, Translations into English
Women authors
genre:
Fiction
ISBN:
9784770030061
OCLC number:
62381625
publisher:
Kodansha International
publication place:
New York, Tokyo
english publication date:
2006
document type:
Book
description:
237 p. ; 24 cm.