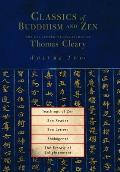 Volume Two of Classics of Buddhism and Zen contains teachings predominantly from the Japanese Zen tradition including the writings of Dogen, the founder and most venerated master of Japanese Zen. Also included is a translation of the Carya-Gita, a collection of the teachings of famous tantric masters who lived during the illustrious Pala dynasty of old Bengal—a text with striking parallels to the early Zen tradition.
subjects:
Buddhism
Zen
genre:
Nonfiction
ISBN:
9781570628320
9781590302194
OCLC number:
61874365
publisher:
Shambhala, 2001, 2002, 2005
publication place:
Boston, London
english publication date:
2001
document type:
Book
description:
560 p. ; 23 cm.