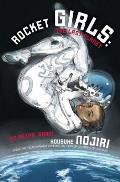 Yukari Morita is a high school girl on a quest to find her missing father. While searching for him in the Solomon Islands, she receives the offer of a lifetime–she'll get the help she needs to find her father, and all she need do in return is become the world's youngest, lightest astronaut.
japanese title:
Tenshi wa kekka oorai
notes:
Japanese title: Tenshi wa kekka oorai. Contents: Homecoming, Of figs and swallows, Operation : rescue orpheus, Afterword.
subjects:
Astronauts
Space flight
genre:
Fiction
ISBN:
9781421537658
OCLC number:
607978624
publisher:
Haikasoru
publication place:
San Francisco
english publication date:
2011
document type:
Book
description:
210 p. ; 21 cm.