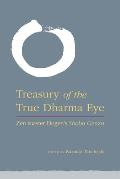 Treasury of the True Dharma Eye (Shobo Genzo, in Japanese) is a monumental work, considered to be one of the profoundest expressions of Zen wisdom ever put on paper, and also the most outstanding literary and philosophical work of Japan. It is a collection of essays by Eihei Dogen (1200–1253), founder of Zen's Soto school.
japanese title:
Shobo genzo
notes:
Japanese title: Shobo genzo.
subjects:
Zen
genre:
Nonfiction
ISBN:
9781590304747
9781590309353
OCLC number:
606405985
publisher:
Shambhala, 2010, 2011, 2013
publication place:
Boston
english publication date:
2010
document type:
Book
description:
2 v. (xcvii, 1171 p.) ; 24 cm.