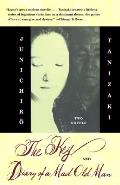 These two modern classics by the great Japanese novelist Junichiro Tanizaki, both utilize the diary form to explore the authority that love and sex have over all.
japanese title:
Kagi, Futen rojin nikki
notes:
Japanese title: Kagi, Futen rojin nikki. Contents: The key, Diary of a mad old man. Originally published: New York : Knopf, 1st work in 1960, 2nd work in 1965.
subjects:
Adultery
Marriage
Older men
genre:
Fiction
ISBN:
9781400079001
OCLC number:
56580993
publisher:
Vintage Books
publication place:
New York
japanese publication date:
The Key: 1956, Diary of a Mad Old Man: 1961
english publication date:
2004
document type:
Book
description:
356 p. ; 21 cm.