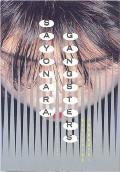 Somewhere in a future time and place, people have no names. Lovers find this inconvenient, so they begin naming each other. The two main characters settle on the following names: the woman is the Nakajima Miyuki Song Book, and the man, who teaches at a poetry school, is Sayonara, Gangsters. Their cat, who prefers milk-and-vodka and is a great fan of Aristotle, is named Henry IV. The first of the book's three parts tells the story of Sayonara, Gangsters's former lover, "the woman," and their daughter, named both Caraway and Green Pinky. In the second section, Sayonara, Gangster explains his work at the poetry school. The last section is an action-filled account of three gangsters who come to be taught poetry and who are killed after a gunfight with a detachment of armored police.
japanese title:
Sayounara gyangu-tachi
notes:
Japanese title: Sayounara gyangu-tachi.
subjects:
Gangs
Presidents, United States, Assassination
Teachers
genre:
Fiction
ISBN:
9781932234053
OCLC number:
55035826
publisher:
Vertical
publication place:
New York
japanese publication date:
1982
english publication date:
2004
document type:
Book
description:
311, [6] p. ; 21 cm.