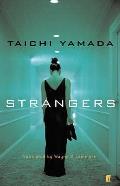 When jaded 48-year-old scriptwriter Harada visits Tokyo's old entertainment district where he grew up, he encounters a likeable working man who is the spitting image of his dead father. Lonely, nostalgic, and willing to believe the unbelievable, Harada follows the mysterious man, embarking on a bittersweet journey into the womb of a city whose living inhabitants have perhaps changed too rapidly and lost their souls.
japanese title:
Ijintachi to no natsu
notes:
Japanese title: Ijintachi to no natsu. A Japanese Literature Publishing Project selection.
subjects:
Apparitions
Middle-aged men
genre:
Fiction
ISBN:
9781932234428
9781932234039
OCLC number:
53154364
publisher:
Vertical
publication place:
New York
english publication date:
2003
document type:
Book
description:
203 p. ; 20 cm.