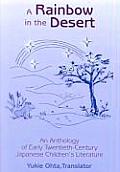 A collection of Japanese children's literature in translation spans three decades with contributions by major authors as well as familiar lullabies.
notes:
Contents: Introduction by Joan E. Ericson, Matasaburo Rides the Wind by Miyazawa Kenji, A Bunch of Grapes by Arishima Takeo, The Moonlit Night and the Eyeglasses by Ogawa Mimei, A Rainbow in the Desert by Tsubota Joji, The Onion Club by Hayashi Fumiko, Kuma by Shiga Naoya, News of the Earthquake by Nakano Shigeharu, The Stonemill's Song by Tsuboi Sakae, The Snowy Night by Dazai Osamu, The Spider's Thread by Akutagawa Ryunosuke, Gon the Fox by Niimi Nankichi, A Play, Evening Crane by Kinoshita Junji, Poems, Cradle Song by Kitahara Hakushu, This Road by Kitahara Hakushu, The Blue-Eyed Doll by Noguchi Ujo, Red Shoes by Noguchi Ujo, Canary by Saijo Yaso. Illustrations by Keico Watanabe. An East Gate book.
subjects:
Children's literature
genre:
Fiction
ISBN:
9780765605559
9780765605566
OCLC number:
520308364
publisher:
M.E. Sharpe, 2000, 2001
publication place:
Armonk, NY
english publication date:
2000
document type:
Book
description:
xv, 175 p. : ill. ; 24 cm.