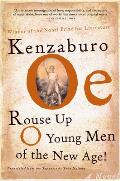 Kenzaburo Oe is one of the world's finest writers, and in Rouse Up O Young Men of the New Age! he delivers a virtuoso novel of extraordinary power, touching on his familiar themes of family, responsibility, the nature of literary inspiration, and the unique nature of parenting a disabled child.
japanese title:
Atarashii hito yo mezameyo
notes:
Japanese title: Atarashii hito yo mezameyo. Contents: Songs of Innocence, Songs of Experience, A Cold Babe Stands in the Furious Air, Down, Down thro' the Immense, with Outcry, The Ghost of a Flea, The Soul Descends as a Falling Star, to the Bone at My Heel, Let the Inchained Soul Rise and Look Out, Rouse Up O Young Men of the New Age!
subjects:
Authors
Families
Fathers and sons
Tokyo, Japan, Fiction
genre:
Fiction
ISBN:
9780802117106
9780802139689
OCLC number:
48055757
publisher:
Grove Press, 2002, 2003
publication place:
New York
japanese publication date:
1983
english publication date:
2002
document type:
Book
description:
259 p. ; 22 cm.