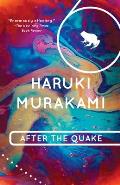 A collection of stories inspired by the January 1995 Kobe earthquake and the poison gas subway attacks two months later takes place between the two disasters and follows the experiences of people who found their normal lives undone by surreal events.
japanese title:
Kami no kodomotachi wa mina odoru
notes:
Japanese title: Kami no kodomotachi wa mina odoru. Short stories, including: UFO in Kushiro, Landscape with flatiron, All god's children can dance, Thailand, Super-frog saves Tokyo, Honey pie
subjects:
Social life and customs
genre:
Fiction
ISBN:
9780375413902
9780375713279
OCLC number:
47849432
publisher:
Alfred A. Knopf, 2002; Vintage, 2003
publication place:
New York
english publication date:
2002
document type:
Book
description:
181 p. ; 19 cm.