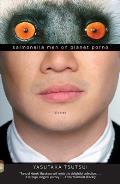 A collection of offbeat short stories from an acclaimed Japanese author explores the folly of human desire in a world in which the fantastic and the mundane collide to throw the lives of ordinary men and women into disarray.
japanese title:
Poruno Wakusei no Sarumonera Ningen
notes:
Japanese title: Poruno Wakusei no Sarumonera Ningen. Contents: The Dabba Dabba Tree, Rumours about me, Don't laugh, Farmer airlines, Bear's wood main line, The very edge of happiness, Commuter army, Hello, hello, hello!, The world is tilting, Bravo Herr Mozart!, The last smoker, Bad for the heart, Salmonella men on Planet Porno.
subjects:
Short stories, Japanese, Translations into English
Social life and customs
genre:
Fiction
ISBN:
9780307377265
OCLC number:
466349333
publisher:
Alma Books, 2006; Pantheon Books, 2008; Vintage Contemporaries, 2010
publication place:
Richmond, UK; New York; New York
japanese publication date:
1979
english publication date:
2006
document type:
Book
description:
252 p. ; 21 cm.