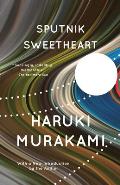 A male college student falls in love with a woman who, over the years, guides him in her travels, and then disappears without trace. Assisting in the search, he goes home to Japan, where he finally achieves a true understanding of his beloved.
japanese title:
Suputoniku no koibito
notes:
Japanese title: Suputoniku no koibito
subjects:
Businesswomen
Female novelists
Maestros
Missing persons
Teachers
Unrequited love
genre:
Fiction
ISBN:
9780375411694
OCLC number:
44775221
publisher:
Alfred A. Knopf, 2001; Vintage, 2002
publication place:
New York
japanese publication date:
1999
english publication date:
2001
document type:
Book
description:
210 p. ; 22 cm.