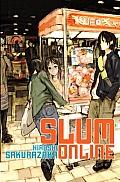 Etsuro Sakagami is a college freshman who simply drifts through life, but when he logs on to the combat MMO Versus Town, he becomes Tetsuo, a karate champ on his way to becoming the most powerful martial artist around. While his relationship with new classmate Fumiko goes nowhere, Etsuro spends his days and nights online in search of the invincible Ganker Jack. Drifting between the virtual and the real, will Etsuro ever be ready to face his most formidable opponent?
japanese title:
Suramu onrain
notes:
Japanese title: Suramu onrain.
subjects:
College students
Science fiction
Virtual reality
genre:
Fiction
ISBN:
9781421534398
OCLC number:
435420875
publisher:
VIZ Media
publication place:
San Francisco
japanese publication date:
2005
english publication date:
2010
document type:
Book
description:
210 p. ; 21 cm.