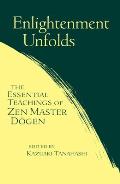 Works written by Dogen throughout his life, presented in chronological order, beginning with the journal from his study in China, providing a substantial selection from his masterwork, Treasury of the true dharma eye, and concluding with his spare but eloquent death poem. A number of the selections appear here in English for the first time.
notes:
Contents: Emergence of the true dharma eye, 1223-1235, Raising sages, 1235-1246, Great awakened ones, 1243-1246, Eternal peace, 1246-1253.
subjects:
Zen
Zen poetry
genre:
Nonfiction
Poetry
ISBN:
9781570623059
OCLC number:
39727713
publisher:
Shambhala, 1999, 2000
publication place:
Boston
english publication date:
1999
document type:
Book
description:
viii, 311 p. ; 24 cm.