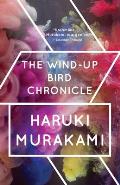 While searching for his missing wife, Japanese lawyer Toru Okada has strange experiences and meets strange characters. A woman wants phone sex, a man describes wartime torture, he finds himself at the bottom of a well. Part detective story, part philosophical meditation.
japanese title:
Nejimaki-dori kuronikuru
notes:
Japanese title: Nejimaki-dori kuronikuru.
subjects:
Man-woman relationships
Psychological fiction
Psychological fiction, Japanese
genre:
Fiction
ISBN:
9780679446699
OCLC number:
36510552
publisher:
Alfred A. Knopf, 1997; Vintage, 1998, 2010
publication place:
New York; New York
japanese publication date:
1995
english publication date:
1997
document type:
Book
description:
611, [2] p. : ill. ; 25 cm.