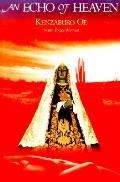 Translation of a Japanese novel by the Nobel Prize-winning author in which a narrator tells the story of Marie Kuraki, a woman who embarks upon a complicated quest for spiritual peace after her life is rocked by a series of personal tragedies.
japanese title:
Jinsei no shinseki
notes:
Japanese title: Jinsei no shinseki.
subjects:
Mexico
Women, Fiction
genre:
Fiction
ISBN:
9784770019868
OCLC number:
34351359
publisher:
Kodansha International, 1996, 2000
publication place:
Tokyo, New York
japanese publication date:
1989
english publication date:
1996
document type:
Book
description:
204 p. ; 24 cm.