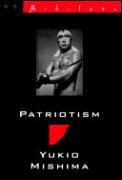 "Was it death he was now waiting for? Or a wild ecstasy of the senses?" For the young army officer of Yukio Mishima's seminal story, "Patriotism," death and ecstasy become intertwined. With his unique rigor and passion, Mishima hones in on the body as the great tragic stage for all we call social, ritual, political.
japanese title:
Yukoku
notes:
Japanese title: Yukoku.
subjects:
Seppuku
Suicide
genre:
Fiction
ISBN:
9780811213127
OCLC number:
32923490
publisher:
New Directions, 1995, 2010
publication place:
New York
japanese publication date:
1961
english publication date:
1966
document type:
Book
description:
57 p. ; 18 cm.