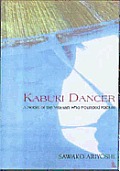 A fictionalized biography of Okuni, the 17th Century Japanese temple dancer who invented the Kabuki theatre. The novel chronicles her love life and the public's reaction to her innovations, such as cross-dressing, reaction which tended to vary with the political climate of the day.
japanese title:
Izumo no Okuni
notes:
Japanese title: Izumo no Okuni.
subjects:
Kabuki
Social life and customs
genre:
Fiction
ISBN:
9784770017833
OCLC number:
28964360
publisher:
Kodansha America, 1994, 2001
publication place:
New York
japanese publication date:
1969
english publication date:
1994
document type:
Book
description:
348 p. ; 23 cm.