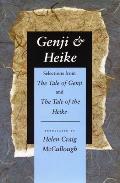 The Tale of Genji and The Tale of the Heike are the two major works of classical Japanese prose. The complete versions of both works are too long to be taught in one term, and this abridgment answers the need for a one-volume edition of both works suitable for use in survey courses in classical Japanese literature or world literature in translation and by the general reader daunted by the complete works. Often called the world's earliest novel, The Tale of Genji, by Murasaki Shikibu, is a poetic evocation of aristocratic life in eleventh-century Japan, a period of brilliant cultural efflorescence. This new translation focuses on important events in the life of its main character, Genji. In romanticized but essentially truthful fashion, The Tale of the Heike describes the late twelfth-century political intrigues and battlefield clashes that led to the eclipse of the Kyoto court and to the establishment of a military government by the rival Minamoto (Genji) clan.
japanese title:
Genji monogatari, Heike monogatari
notes:
Japanese title: Genji monogatari, Heike monogatari.
genre:
Fiction
ISBN:
9780804722575
9780804722582
OCLC number:
28221107
publisher:
Stanford University Press
publication place:
Stanford
english publication date:
1994
document type:
Book
description:
x, 490 p. : maps ; 25 cm.