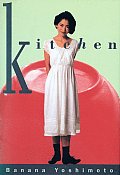 Full-fledged phenomenon: a young writer of great talent and great passion whose work has quickly earned a place among the best of twentieth-century Japanese literature. Banana Yoshimoto's Kitchen is an enchantingly original and deeply affecting book that juxtaposes two tales about mothers, transsexuality, kitchens, love, tragedy, and the terms they all come to in the minds of a pair of free-spirited young women in contemporary Japan. Told in a whimsical style that.
japanese title:
Kitchin
notes:
Japanese title: Kitchin. Contents: Kitchen, Moonlight shadow.
subjects:
Domestic fiction
Short stories
genre:
Fiction
ISBN:
9780802115164
OCLC number:
25676042
publisher:
Grove Press, 1993, 2006; Washington Square Press, 1993; Faber and Faber, 1994, 1997; Paw Prints, 2010
publication place:
New York; New York; Boston
japanese publication date:
1988
english publication date:
1993
document type:
Book
description:
152 p. ; 19 cm.