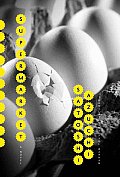 After he resigns from his elite banking job to help a cousin manage a supermarket in post-World War II Japan, Kojima is challenged by a woman from his childhood to consider whether his business goals are worth his efforts.
japanese title:
Shosetsu supamaketto
notes:
Japanese title: Shosetsu supamaketto.
subjects:
Bankers
Supermarkets
genre:
Fiction
ISBN:
9780312382940
OCLC number:
234440247
publisher:
Thomas Dunne Books
publication place:
New York
english publication date:
2009
document type:
Book
description:
329 p. ; 22 cm.