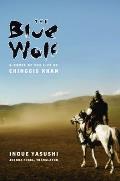 One of the world's most ruthless warriors, Chinggis Khan conquered nearly all of Asia in the twelfth and thirteenth centuries, transforming the scattered and impoverished Mongols into an exceptionally proud and powerful nation. In this riveting and thoroughly researched portrait, Japan's celebrated epic novelist drives at the root of the khan's great desires and insatiable appetite for supremacy. Beginning with his birth in 1162, The Blue Wolf follows the crucial alliances that led to Chinggis Khan's great campaigns in North China, Bukhara, and Samarkand, as well as the state of Khorazm.
japanese title:
Aoki okami
notes:
Japanese title: Aoki okami.
subjects:
Genghis Khan, Fiction
genre:
Fiction
ISBN:
9780231146166
9780231517911
OCLC number:
191090473
publisher:
Columbia University Press
publication place:
New York
english publication date:
2008
document type:
Book
description:
xii, 281 p. : map ; 22 cm.
related:
Weatherhead books on Asia.